The festival
A tribute to Jean-Pierre Lambert
MEDIA INFORMATION
For interview requests or site access: Kateline Grondin t. (819) 7561-4515 ext. 3140 c. (819) 806-5493 | [email protected]
HISTORY AND ORIGINS OF THE PROJECT
THE SPARK
On January 22, 2017, the passionate musician and renowned musical director Jean-Pierre Lambert left us (far too early). His departure created a gaping hole in the tightly woven web of jazz in Quebec. His enthusiasm, professionalism, rigour, involvement and determination have influenced a whole generation of musicians and teachers who had the opportunity to work or collaborate with him on various projects.
Driven by the same passion Jean-Pierre Lambert passed on to them over the years, a handful of his former collaborators and family members came up with the idea of getting together and creating a committee. They wanted to set up the very first jazz festival in the Victoriaville region. An event that they hope will be as colourful as "Jeepee" was, and equally inspiring for the next generation of professional musicians. A nod and a wink at him from below, to make sure he remembers us...That's how the event got its name: JPL Victo Jazz.
THE VISION
JPL Victo Jazz is a unifying event focusing on jazz and its varying styles. Presented at Carré 150, Victoriaville's Cultural Space, during February, it offers both an accessible program of shows and activities for the general public and a competition section dedicated to jazz bands of ten musicians or less. A component of the program is also devoted to school groups. The public will have the opportunity to enjoy many professional musicians from Quebec and abroad and attend performances of jazz bands in competition. Through this event, the organizing committee hopes to democratise jazz music among the population, help them appreciate all its different styles. And above all, they want to allow the next generation of jazz musicians in Quebec shine!
ABOUT JEAN-PIERRE LAMBERT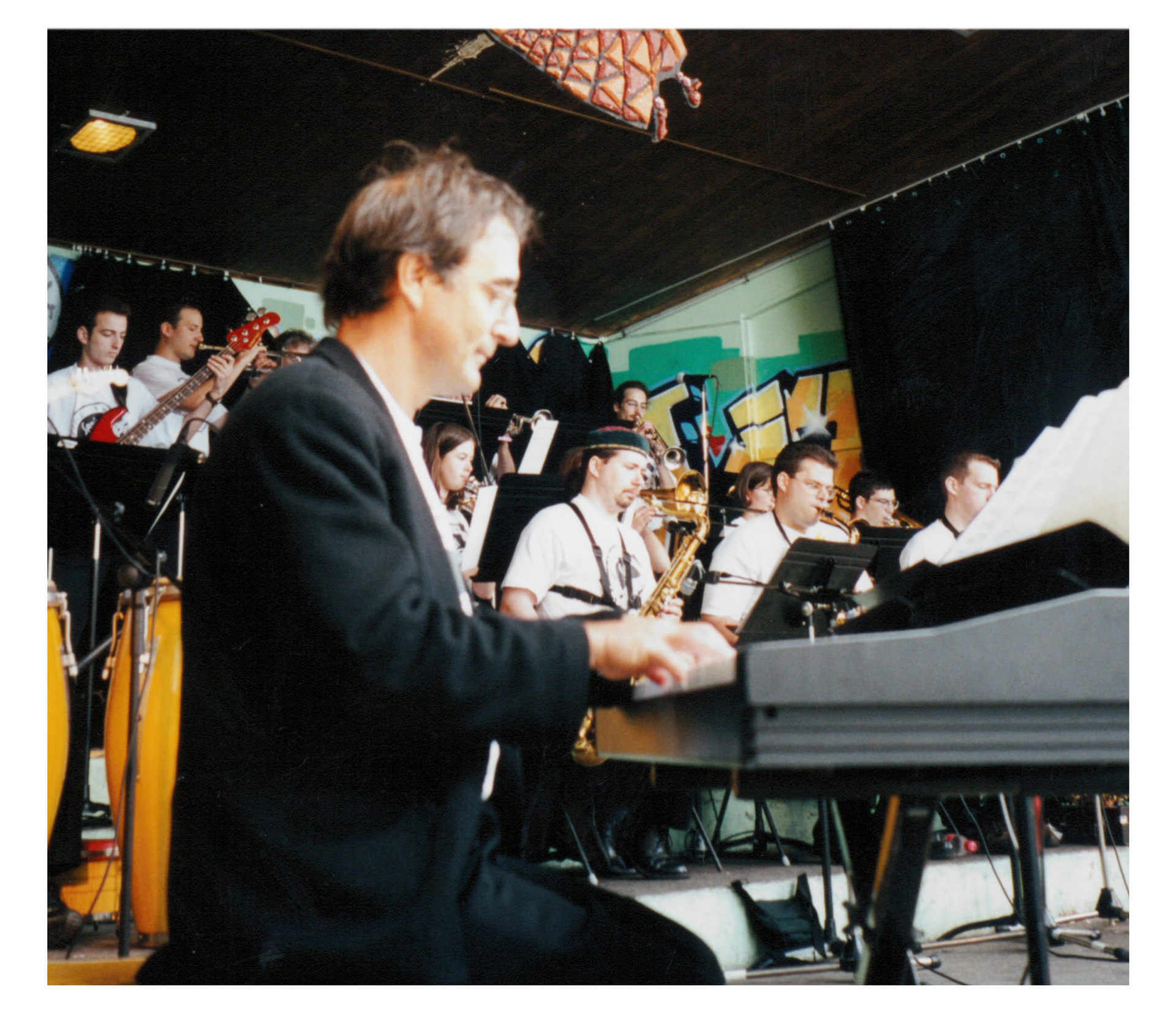 A talented pianist, composer and professional arranger from Victoriaville, Jean-Pierre Lambert led the SORTIE 210 Big Band since its formation in 1992, and the Jean-Pierre Lambert Big Band since 2013. In addition to collaborating with Pierre Verville, Jean Lapointe and Jean-Guy Moreau for several years, he was a musical director for several television programs, including L'auberge du Chien Noir and À la Semaine Prochaine, on Radio-Canada and La Première Chaîne. An excellent teacher, Jean-Pierre Lambert also taught at Le Boisé High School, Victoriaville CEGEP and the Université de Sherbrooke.
In 2015, the Fédération des harmonies et orchestres symphoniques du Québec awarded him the very first FHOSQ Recognition Award. This award is granted to federation musicians and collaborators whose exceptional careers were a source of inspiration in their community and across Quebec.
(Jean-Pierre Lambert, accompanying the Victoriaville Senior Stage Band at the Montreux Jazz Festival, 2000)
This project was launched in collaboration with